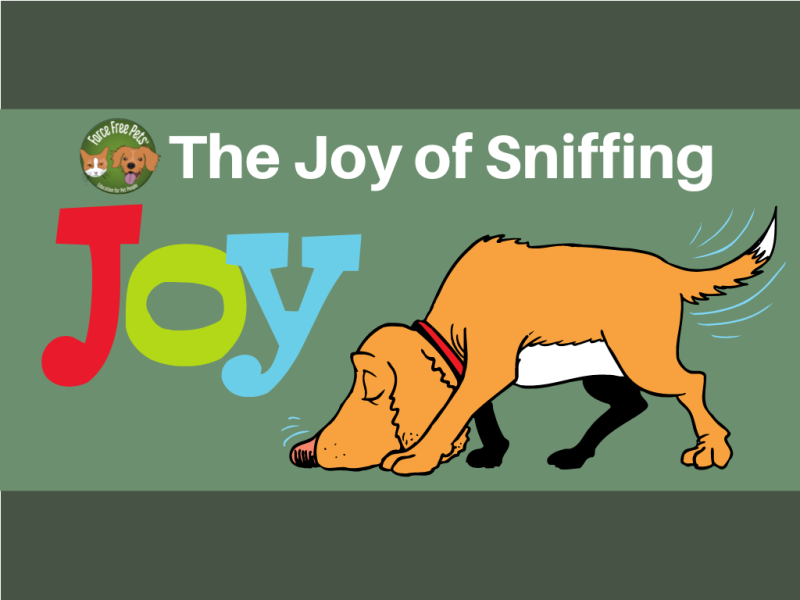 The Joy of Sniffing
with Cristina Arrigoni Martelli
$12500
The Joy of Sniffing is not an obedience class where we teach you how to train your dogs to perform certain behaviors, like "sit" or "come." Instead, we will encourage you to let your dog make choices that will build their confidence, reduce stress, and bring them joy by using their extraordinary ability to detect and follow a scent.
The Joy of Sniffing is a semi-private group class consisting of two teams of one to two students with their dogs and one instructor. Classes may be held outdoors and in our upstairs training room; however, most classes will be outdoors, so dress appropriately. Each session is approximately 40 minutes long, and we will meet at the same time and day for four weeks. The cost of the class is $125.
Prerequisites for The Joy of Sniffing: 
Successfully completing our Basic Manners course.
An invitation from the ForceFreePets faculty.
An ability for your dog to sit, stand or lay down quietly, their choice, with you in the presence of one or more handlers and their dogs. What we teach in this class is appropriate for bouncy, excited dogs, but not in a group setting. If your dog is highly enthused, ask us about private lessons.
Additionally, you need to understand that your dog is an individual and that each dog in the class may progress at different rates. Your focus in this class is all about your dog enjoying learning new things together. It is not a competition.
The Joy of Sniffing is unsuitable for overly reactive or aggressive dogs; however, this type of training may benefit them in private lessons. Contact Don@ForceFreePets.com to learn how we can help you.
In the Joy of Sniffing, we will teach you how to provide your dog with opportunities to use their innate sense of smell. Many dogs become anxious or hyperactive, both forms of stress, due to insufficient stimulation of their natural senses and our tendency to overcompensate with increased physical exercise. However, dogs need mental stimulation even more than physical exercise. By learning how to set up sniffing adventures for your dog, you will discover ways to enrich their life.
We offer several classes at different starting dates and times. However, once you have started a class, you cannot switch to a different date or time. If the date and time you prefer is filled, you can add your name to a waiting list but be advised it is very rare for someone to withdraw from a class. Therefore, your best strategy may be to enroll in your second choice of date and time.
Please understand that class postponement due to public health situations is a possibility. We may also find limiting attendance to one student per dog necessary. We may also reschedule a class due to weather or instructor availability.
Joy of Sniffing-SUN-11AM:

Jun

4

-

25th

,

2023

Sun

for

4 weeks

from

11:00 - 11:40 am

Joy of Sniffing-SAT-3PM:

Jun

24

-

Jul

15th

,

2023

Sat

for

4 weeks

from

3:00 - 3:40 pm
Green Acres Kennel Shop/Force Free Pets
(207) 945-6841
1653 Union Street
Bangor, ME 04401 Get directions